I am a bit ashamed of myself for not blogging, even once, since I began this blog. I had such high aspirations for Creations By Kera. Unfortunately, life just got in the way. Before this week, I haven't even really worked on any projects on my sewing machine. Eek! I was in a rut. I believe I may have found my mojo again. I am working on some things that I want to try in the new year. I plan to try to organize myself and make some schedules, so I don't fall in the rut again. Hopefully it works.
Thank goodness for the Christmas season giving me a reason to get back to my love of sewing. Nothing is more satisfying then making the perfect gift for someone you care about. When thinking about what to make for my best friend, Jenn, I was stumped. Really, really stumped. I have been scouring the web and Pinte
rest for about 3 weeks, but nothing caught my eye. Finally, I turned to my collection of books. As soon as I picked up Amy Butlers Style Stitches, I knew I had found the perfect project. The Perfectly Pleated Clutch. Adorable! I also had all the supplies on hand, which was good considering I waited until the day before it was needed to start making it.
The Perfectly Pleated Clutch wasn't as difficult as I first imagined. Making the pleats was the most time consuming, but it was very satisfying. I don't know why, but I love ironing fabric. (Not to be mistakin with clothing. Just my fabric.) There are three sizes to choose from. I made the small clutch. All in all, it was a pretty easy pattern to follow. I did change a few things. I used Fusible fleece for my interfacing (it's what I had on hand, and I think it made the clutch feel more substantial). I also used the same fabric as the pleats for the handle. The pattern calls for using the top band fabric for the handle. I wasn't crazy about the look of the handle (reminds me if a tail), so I chose the pleated fabric to help it blend in.
Here are some pictures of the finished product.
I am very pleased with the finished project. I am still unsure of my fabric choice for the pleats, but it seems to have come together well. Not sure if I will make this particular clutch again. The shape is quite different. However, I will definitely use pleats in future projects. What really matters is Jenn really loved it, which means success in my book.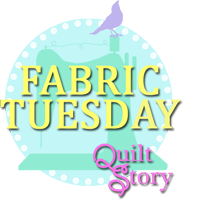 I linked this post up with Quilt Story, Fabric Tuesday.